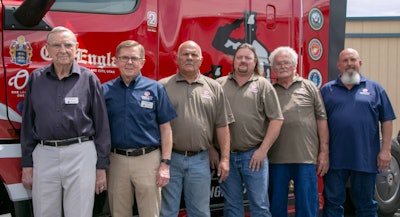 C.R. England recognized veteran drivers in its company and community during its sixth annual Veterans Rally on Friday, June 7, at its corporate offices in Salt Lake City.
The company added three new military drivers to its Honored Veterans Fleet. Those drivers are:
Garth Patterson: Patterson served in the U.S. Army from 1972 to 2004. He was a part of the U.S. Special Forces and a CID and CIA agent. Patterson has multiple degrees in the medical and criminal fields. He has been with C.R. England for 13 years and is a One Million Mile Safe Driver.
John Crabtree: Crabtree served in the U.S. Army from 1993 to 1996 as an MP stationed in Fort Hood, Texas. He has driven for C.R. England for 13 years and is a Two Million Mile Safe Driver.
Richard McDonald: McDonald served in the Army National Guard from 1963 to 1972. He's been with C.R. England for 35 years and has driven three million safe miles without an accident.
C.R. England also recognized 26-year employee Steve Atkins, director of maintenance for the company's Dedicated fleets. Atkins joined the Navy in 1988 and served on the USS Coral Sea as a Machinist Mate. He was assigned to the USS Fairfax and was promoted to Engineman. He was honorably discharged as a Petty Officer Third Class Engineman in 1992.
The fleet presented World War II Army veteran Donald Pullan with the C.R. England Honored Veteran Award. Pullan grew up in Salt Lake City and joined the Army when he turned 18. He served in the European Theater, which included crossing the Siegfried Line and being with troops liberating the Dachau and Buchenwald concentration camps. Pullan served until he was injured by a land mine explosion just before the end of the war. He was in the hospital for two months and returned home on his birthday on Oct. 3, 1945.