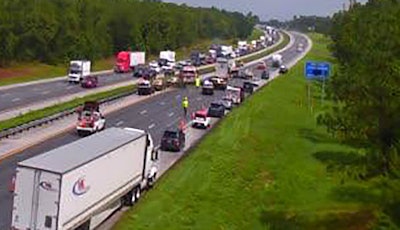 Two men said to be from Italy died Thursday morning when they were struck by a tractor-trailer after their motorcycles collided on Interstate 75 south of Ocala, Florida.
The crash occurred at about 9:30 a.m. near mile marker 343 about two miles north of the County Road 484 exit on I-75.
A Florida Highway Patrol trooper told The Ocala Star-Banner three motorcyclists were northbound when one of the bikes struck another from behind. Both of those riders were thrown from their bikes. A tractor-trailer following them tried to avoid hitting the downed motorcyclists but could not stop in time and ran over them.
The names the two motorcyclists were not immediately available.
FHP said there was a second crash in that area, and a witness said the first motorcyclist had hit his brakes because of that crash.
Witness reportedly said one of the motorcycle riders who was killed braked and the second one struck his rear wheel and both fell to the highway.
Rudolph Henriques, the driver of the tractor-trailer told the Star-Banner he was in the right lane and suddenly saw two people on the interstate, one in his lane and one in the center lane. Henriques said he tried to avoid them, but ended up hitting them both.
All northbound lanes of I-75 were closed until after 3 p.m.