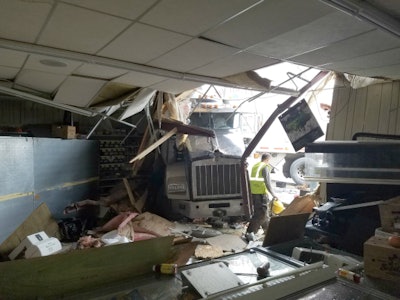 A collision between two tractor-trailers sent one through the side of a grocery store in northern Michigan Wednesday, June 5.
The crash occurred at about 10:30 a.m. at an intersection in Fairview, a small mostly rural community in Oscoda County on Lake Huron. The two trucks collided on N. Abbe and E. Miller Road and one truck struck the side of the Fairview Food Market.
Neither driver was injured and customers and staff in the market were uninjured.
One driver was ticketed for failure to yield. Neither driver was identified by the Oscoda County Sheriff's Department.