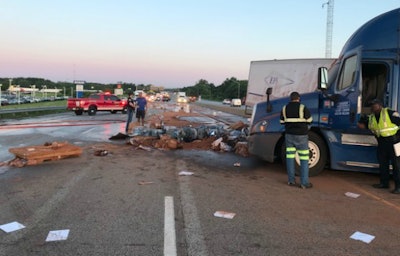 Part of eastbound Interstate 94 in northern Indiana was closed for several hours early Friday morning June 14 because of a collision involving two tractor-trailers.
Indiana State Police say the collision occurred at about 3:45 a.m. when a 2016 Freightliner slammed into a 1999 Freightliner parked on the side off eastbound I-94 not far from the Burns Harbor/Porter exit east of Gary.
A statement from the troopers says the 1999 Freightliner pulling a box trailer, and driven by Radmilo Samardzio, 70, of Ballwin, Missouri, had been pulled over and parked near the exit ramp. Samardzio told police he "parked to get a bottle of water to drink and stated he had put his emergency hazards on when he was hit from behind."
Samardzio's truck was struck by the newer Freightliner driven by Steven S. Dare, 57, of Hudsonville, Michigan. According to the troopers, Dare was eastbound in the right lane "when he reached over to his passenger seat to get something, this caused his semi to drift off the roadway and hit the rear of Samardzio's trailer." Dare's truck also struck a concrete median barrier wall.
The troopers' statement says both trailers were split open and their contents were strewn across all eastbound lanes. It adds, "Samardzio was hauling food product one of those being cocoa powder. Dare was hauling miscellaneous merchandise, part of his load was approximately 100 pounds of lithium batteries. The batteries leaked onto the cocoa powder which caused it to ignite in small batches."
Both drivers were wearing their seat belts and were not injured. Troopers continue their investigation and gave no indication if citations were issued.