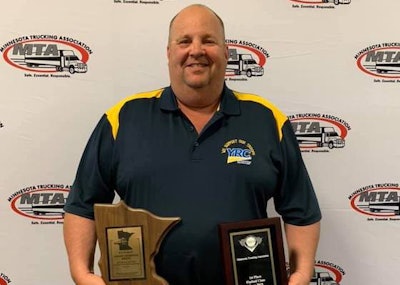 YRC Freight driver Bill Krouse earned the grand champion at the Minnesota Truck Driving Championship for having the highest overall score. He also won first place in the flatbed class.
FedEx Freight driver Jeremy Thomas was named grand champion at the West Virginia Truck Driving Championship for the second year in a row. He was named Rookie of the Year in 2017 and has been a trucker for 14 years. Thomas also won first place in this year's 3-axle class. The West Virginia competition was held June in Nitro.
Old Dominion Freight Line driver Timothy Whitley claimed North Caroline's grand champion spot and also won first place in the straight truck class. The North Carolina Truck Driving Championship was held May 9-11 in Raleigh.
Minnesota's winners:
Grand Champion: Bill Krouse, YRC Freight
Rookie of the Year: Tim Davis, Ruan
3-Axle: Paul Butkowski, FedEx Freight
4-Axle: Nick Farness, XPO Logistics
5-Axle: Scott Post, FedEx Ground
Flatbed: Bill Krouse, YRC Freight
Sleeper Berth: Steve Shanda, Halvor
Step Van: Alex Lofgren, FedEx Ground
Straight Truck: Reggie Copeland, FedEx Freight
Tank Truck: Larry Steffensen, FedEx Freight
Twin Trailers: Duane Maroney, ABF Freight

FedEx Freight driver Jeremy Thomas is FedEx Freight's grand champion for the second year in a row. (Image Courtesy of West Virginia Trucking Association)
West Virginia's winners:
Grand Champion: Jeremy Thomas, FedEx Freight
Rookie of the Year: Daniel Knight, FedEx Freight
Straight Truck: Chad Sheets, FedEx Freight
3-Axle: Jeremy Thomas, FedEx Freight
4-Axle: Daniel Knight, FedEx Freight
5-Axle: Aaron Belcher, FedEx Freight
Tank Truck: Robert Johnson, Pilot Thomas Logistics
Flatbed: Kenneth Grimmett, XPO Logistics
Twin Trailers: William Adkins, FedEx Freight
Sleeper Berth: Larry Gorby, XPO Logistics
Step Van: Chad Taylor, FedEx Express
Professional Driver of the Year Award: David Phelix, FedEx Freight
State Police Safety Award: Russell Alan Smith, FedEx Freight
West Virginia Public Service Commission Driver of the Year Award: Jeff Smith, XPO Logistics
Pre-Trip Inspection Award: Jeremy Thomas, FedEx Freight
Team Champion Award: XPO Logistics
North Carolina's winners:
Grand Champion: Timothy Whitley, Old Dominion Freight Line
3-Axle: Brian Walker, UPS
4-Axle: David Rohman, FedEx Express
5-Axle: Johnny Willard, FedEx Ground
Flatbed: Basher Pierce, FedEx Freight
Sleeper Berth: Christopher Gibbons, FedEx Freight
Tank Truck: Cecil Hicks, FedEx Freight
Twin Trailers: David Wagoner Jr., Old Dominion Freight Line
Straight Truck: Timothy Whitley, Old Dominion Freight Line
Step Van: Antonio Toon, FedEx Freight