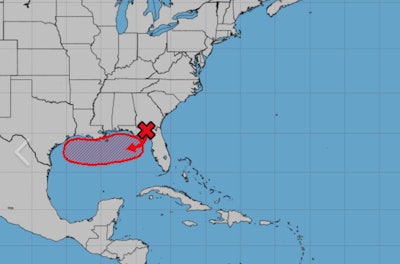 If you're headed to any of the Gulf Coast states and elsewhere in the South yet this week, you better have a Plan "B" ready. Weather forecasts call for a tropical storm — possibly becoming a hurricane — that could deliver rain measured in feet and not inches in some places.
A tropical depression located off the coast of Florida is expected to move northerly over the coast as early as tonight and then head west or northwest Thursday, eventually becoming a full-fledged tropical storm and even attaining hurricane status, according to AccuWeather.
Between 2 and 8 inches of rain is expected to fall from the Florida Panhandle to parts of the Texas coast. However, AccuWeather warns that the heaviest rain — as much as 2 feet — could fall on parts of Louisiana, Mississippi, western Tennessee, Arkansas, and northeastern Texas.
How much rain and when it arrives depends on the course the slow-moving storm takes.
The National Weather Service's National Hurricane Center says the system could produce storm surge and tropical- storm- or hurricane-force winds.