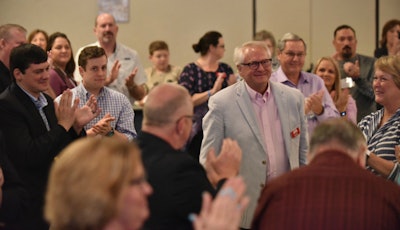 Two state trucking associations changed leadership recently.
Mark Colson was named the president of the Alabama Trucking Association, and Robert Shake is the new executive director of the Alaska Trucking Association.
Colson replaces Frank Filgo, who had led the Alabama association for 24 years. Shake takes over from Aves Thompson, who was executive director of the Alaska organization for 13 years.
Colson most recently was a senior advisor for the Business Council of Alabama. Over the past decade, Colson served in multiple senior roles for BCA, including senior vice president for governmental affairs, chief of staff, and recently serving as interim president during an executive transition. He grew up working for his family's tire business, and is a graduate of Huntingdon College.
Shake has some 40 years experience in executive management positions in commercial banks, credit unions, and the commercial insurance industry. He is a graduate of Colorado College with a degree in Business Administration. Shake has served on various boards and commissions including Providence Alaska Foundation, Municipal Light & Power, World Trade Center Alaska, and Boys and Girls Club Alaska.
In addition, Joe Michel, is the newly appointed deputy director. He has over a decade of experience in Alaska state government. He has worked in the governor's office and both the House and Senate of the Alaska State Legislature.