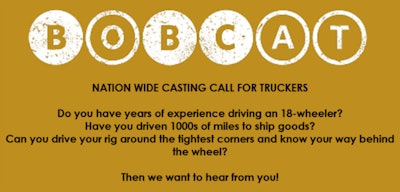 The search is on for truckers and family-owned trucking companies to appear in two new proposed TV shows.
Key creative personnel behind numerous cable TV reality shows including Ice Road Truckers appear to be involved with the creation of a new trucking-related competition show. In addition, a casting call has been issued for family-owned trucking companies specializing in oversized hauling.
A casting call from Bobcat Studios appearing across social media says:
"Do you have years of experience driving an 18 wheeler? Have driven 1,000s of miles to ship goods? Can you drive your rig around the tightest corners and know your way behind the wheel? Then we want to hear from you!
"From the creators of Deadliest Catch, Bobcat Partners are producing a competition series to find the most skilled truckers to compete in a series of events to show off their trucker skills. This is a fantastic project for a major cable network where you'll be put through a series of obstacle courses and tasks to see what kind of moves you have behind the wheel of a giant trucker rig."
For more information, email [email protected].
The other casting call claims it is seeking trucking businesses for a show on a "major TV network." In specific it says:
"An Emmy Award winning TV production company, in partnership with a major U.S. network is currently casting for family-owned trucking companies.
"We are specifically looking for family-owned businesses who have experience shipping large and obscure items over dynamic terrain.
"If this sounds like you or someone you know, we would love to hear from you!"
If interested, you can email [email protected]
Folks involved with Bobcat Partners include Jeff Conroy and Thom Beers, both of who were executives at Original Productions, which produced Ice Road Truckers for the cable TV channel History. Beers also served as the narrator for the series, which ran for 138 episodes over 11 seasons. Conroy was co-executive producer of Ice Road Truckers and has also been involved with Deadliest Catch, Ax Men, and Storage Wars.
The third founder of Bobcat is Sara Bernard, former general manager at Huffington Post and director of online engagement in the Obama White House.
Bobcat Partners' recent projects include The American Farm, which aired on History, Mark Hamill's Pop Culture Quest and a special for History on the 50th anniversary of Hot Wheels toy cars and trucks.
This casting call comes at the same time as one that recently surfaced from Original Productions, the company behind Ice Road Truckers, which said:
"We are looking for women truck drivers and/or truck company owners who may be interested in being on a new season of Ice Road Truckers. We are currently looking to identify new main characters and story-lines for a potential next season of the show."
But, a spokesman for Original Productions said, "There is no reboot (of Ice Road Truckers) to speak of just yet. At the moment, we are just in the development phase. Hopefully, we'll find some great characters to warrant a new season."
Three stars of Ice Road Truckers will beat the Great American Trucking Show in Dallas later this month. At the show, will be Lisa Kelly, Carey Hall, and Reno Ward. They'll join country rocker Jayne Denham at a meet and greet following her performance, and five GATS attendees will be able to attend by entering a drawing.
Sign up for the "Black Coffee, White Lines On Ice" drawing here.