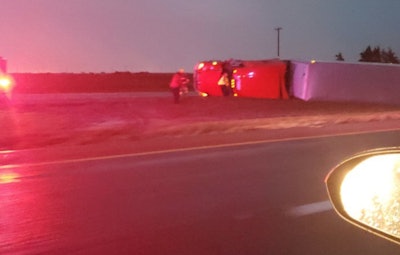 High winds toppled some 20 tractor-trailers on Interstate 70 in northwest Kansas Tuesday night.
The interstate was closed for part of Tuesday, Aug. 13, evening between Hays and WaKeeney as winds clocked as high as 80 mph knock over tractor-trailers and other vehicles, road signs, and power lines, some of which are reported to have fallen across disabled trucks. Heavy rains that accompanied the winds caused flooding in the city of Hays.
There were no reports of injuries to any of the truck drivers involved.
TV weatherman Nathan Scott shared some storm images on Twitter.
Traveling on I-70 near Ellis in Ellis County strong winds toppled over 3 tractor-trailers within a mile. I also saw speed limit signs bent over. @NWSGoodland #severeweather pic.twitter.com/bdhrMkoJyA

— Nathan Scott THV11 (@NathanScott_wx) August 14, 2019
Another semi blocking Interstate 70 that makes for that I've seen so far. @NWSGoodland @NWSDodgeCity pic.twitter.com/0p8YEmE4V7

— Nathan Scott THV11 (@NathanScott_wx) August 14, 2019
This camper also no match for the fierce winds that rolled through here earlier. Near Hays, Kansas. @NWSDodgeCity pic.twitter.com/taw9dOmh3i

— Nathan Scott THV11 (@NathanScott_wx) August 14, 2019
Winds have to pretty strong to do this to a highway sign. West of Hays. @NWSGoodland @NWSDodgeCity pic.twitter.com/rB6JWD392h

— Nathan Scott THV11 (@NathanScott_wx) August 14, 2019