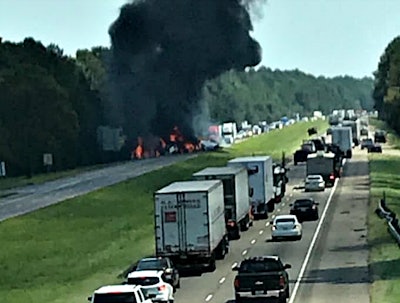 Two people are said to have died and at least one other was injured in a multiple-vehicle crash on Interstate 12 in Louisiana today.
Lousiana State Police say the collision occurred at about 12:30 p.m. in the westbound lanes near the Pumpkin Center exit in Livingston Parish, which is east of Baton Rouge. At least two tractor-trailers are said to have been involved in the fiery crash that shut down the interstate in both directions.
WAFB-TV reports: "Investigators believe an 18-wheeler crossed the center line and hit a white SUV. That sent both vehicles over the median and the 18-wheeler struck another 18-wheeler head-on. There are no barrier cables on that stretch of the interstate."
Identities of those involved have yet to be released.