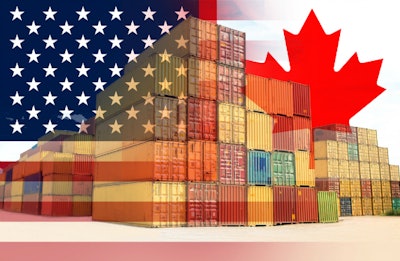 The Truckload Carriers Association holds its third annual Bridging Border Barriers conference Nov. 20 in Brampton, Ontario, Canada. The gathering is at the Lionhead Golf Club and Conference Center.
Topics to be covered include:
current and potential cross-border commerce issues
the USA/Canada/Mexico Trade Agreement
marijuana transportation
sleeper berth flexibility
electronic logging devices
truck size and weight
The complete agenda includes:
7 a.m. – Breakfast
8 a.m. – Opening Remarks by Kim Richardson, president, KRTS Transportation Specialists
8:15 a.m. – 9:15 a.m. – Regulatory presentation by David Heller, vice president of Government Affairs, Truckload Carriers Association. His presentation is on the latest in the regulatory and legislative environments and how TCA will address them.
9:15 a.m. – 10:15 a.m. – Leadership panel "View from the Top" Discussion with John Lyboldt, president, Truckload Carriers Association; Stephen Laskowski, president of Ontario Trucking Association and chairman of the Canadian Trucking Alliance; Dan Einwechter, chairman & CEO, Challenger Motor Freight, Inc. and moderated by Heller.
10:15 a.m. – 10:30 a.m. – Break
10:30 a.m. – 11:15 a.m. Kerri Wirachowsky, director of Roadside Inspection Program, Commercial Vehicle Safety Alliance
11:15 a.m. – 12:15 p.m. – Data and Profitability panel discussion with Chris Henry, program manager, TCA's Profitability Program; Craig Fuller, CEO, FreightWaves (invited); Damiano Coniglio, CFO, Bison Transport; Trevor Kurtz, general manager, Brian Kurtz Trucking, LTD (invited)
12:15 p.m. – Closing remarks by Lyboldt