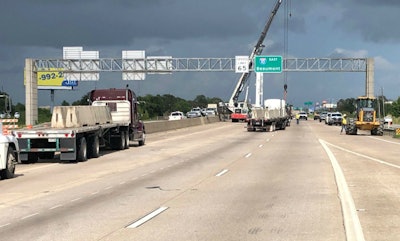 Texas highway officials say the Interstate 10 bridge over the San Jacinto River is open to traffic once again after having been struck by several barges that broke loose during record flooding last week.
The heavily traveled bridge had been shut down since last Friday. Two eastbound lanes opened Tuesday, Sept. 24, and the two westbound lanes opened this morning.
Texas Department of Transportation officials said repairs need to be made on the westbound span. The DOT says the plan is for the eastbound side of the double bridge to be converted to two-way traffic until lanes are also reopened on the westbound side. Barricades have to be installed to separate traffic lanes, and re-striping will be required to direct traffic at switch-over points.
The damage occurred last week as tropical storm Imelda dropped some 43 inches of rain on parts of southern Texas, especially the Beaumont and Winnie areas.