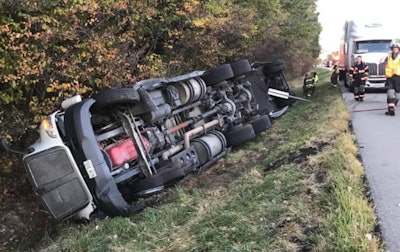 A trucker and a passenger in his truck Sunday, Oct. 7, were arrested by Indiana State Police after the truck he was driving rolled onto its side on Interstate 65 near Crothersville about 70 miles south of Indianapolis.
A statement from the troopers says a white 2017 Kenworth pulling a trailer and being driven by Torris D. Robinson, 40, of Anniston, Alabama, was southbound on I-65 near mile marker 41 in Jackson County. The vehicle left the west side of the interstate before overturning and coming to rest on its side, according to the troopers. The crash occurred at about 6:30 p.m.
Neither Robinson nor a passenger in the vehicle, Mary E. Thomson, 38, also of Anniston, were injured in the collision.
Troopers report they began an investigation after Robinson showed signs of being intoxicated. Robinson was transported to Schneck Medical Center in Seymour, Indiana for further investigation. While at the hospital, Robinson spit on a hospital employee, according to police. Robinson was arrested on charges of operating while intoxicated, operating while intoxicated-endangerment, and battery by bodily waste. Toxicology results are pending for Robinson at this time, according to police.
Thompson also showed signs of intoxication at the scene of the accident, and police say she became belligerent and then resisted arrest. She was arrested on charges of public intoxication and resisting law enforcement, according to police.
Both Robinson and Thompson were taken to the Jackson County Jail pending their initial court appearances.