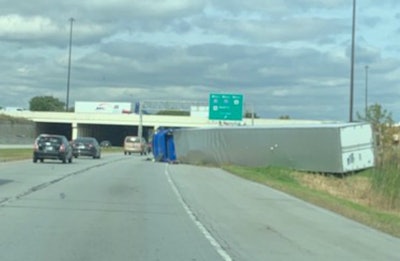 The rollover of a tractor-trailer Thursday morning, Oct. 17, in Indiana is being blamed on the driver's sneezing and coughing fit.
Indiana State Police report a 2018 Freightliner pulling a box trailer, and driven by Steven Baker Junior, 47 of East Prairie, Missouri, was exiting from Interstate 80/94 eastbound to Indianapolis Boulevard northbound when he lost control. Baker told police he became distracted by a spell of sneezes and coughs, and when he opened his eyes he thought he saw a passenger car next to him and he swerved to avoid it. The rig left the roadway and overturned onto the driver's side. It came to rest in the right lane of Indianapolis Boulevard northbound, according to police.
Baker was transported to North Lake Hospital in Gary with non-life threatening injuries.