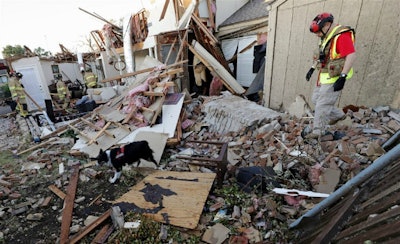 The Federal Motor Carrier Safety Administration has issued a regional emergency declaration for the state of Texas in response to severe storms and their anticipated effects on people and property. A total of nine tornadoes were confirmed to have touched down Sunday, Oct. 20.
A statement from the agency said the declaration triggers the temporary suspension of certain federal safety regulations for motor carriers and drivers engaged in specific aspects of the emergency relief effort.
The declaration comes after Texas Gov. Greg Abbott issued a disaster declaration for 16 Texas counties Monday, Oct. 21. This means motor carriers and drivers providing direct assistance to the emergency in Texas in direct support of relief efforts related to the severe storms are granted emergency relief from Parts 3 90 through 3 99 of Title 49 Code of Federal Regulations except as restricted herein.
The declaration remains in effect for the duration of the emergency or until 11:59 p.m. Eastern Nov. 21, whichever is less.