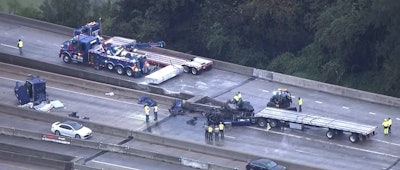 A 5-year-old girl died and three other people were injured Wednesday, Oct. 23, when a tractor-trailer crashed on a heavily-traveled bridge over the Mississippi River near St. Louis.
The unidentified child was in the sleeper berth of the truck when it struck a concrete barrier on the Poplar Street Bridge in East St. Louis on the Illinois side of the river. Also injured was the truck's driver, Janette Kirby, 44, of Texarkana, Texas, and 17- and 15-year old boys, who were also in the truck.
Illinois State Police say Kirby's truck hit a concrete median on northbound Interstate 55 at milepost .5 at about 5:30 a.m. A piece of aluminum weighing about 17 tons broke loose from the flatbed it was on, struck the rear of the cab and forced the truck to overturn on the driver's side.
The 5-year-old in the sleeper berth of the truck was ejected. She died at an area hospital.
Police continue their investigation of the crash, which is said to have involved another vehicle attempting to merge onto the highway.