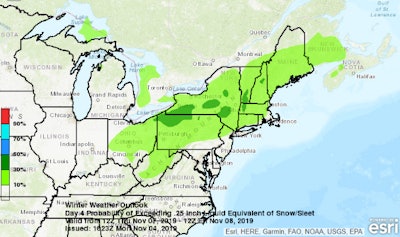 You knew it had to come sooner or later …
The National Weather Service, the Weather Channel and Accuweather are all forecasting true winter-like weather for much of the northern U.S. in the next several days. While the northern Plains and Rockies got a mid-winter dose of snow already, the first significant snowfall is expected in the Northeast later this week.
Blame it on a so-called Alberta Clipper — a blast of cold air out of Canada — that is expected to deliver up to several inches of snow from the Dakotas, across the Great Lakes states and on into much of the Northeast. Snow is already falling in the West and will increase tonight, throughout Wednesday and into Thursday as it moves eastwardly. Between 1 to 3 inches are expected in most locations, possibly more in traditional lake effect regions including and especially Ohio and western New York.
Things could get tricky for truckers on a couple of the region's major highways.
"Roadways and interstates can still become snow-covered and slippery where the snow will occur during the overnight hours. Travelers on interstates 90 and 94 Wednesday morning may need to allow for extra time for the drive." AccuWeather Meteorologist Kyle Elliot said in a Facebook post.
Significantly colder air is supposed to follow in the snow's path, and that too could complicate travel. Highs only in the 20s could arrive later in the week and on into the weekend.
Tips to truckers:
make sure your chains are handy if they already aren't
be sure to have extra clothes, bedding, gloves, and suitable boots onboard
if you don't have an emergency kit in your cab, get one and stock it with some non-perishable food and bottled water
keep your devices charged
___
David Hollis is the editor of Truckers News and can be reached at davidhollis@randallreilly.com.