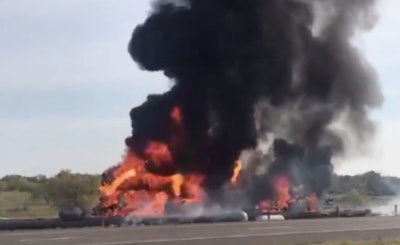 At least three people were killed and three more were injured in a crash and fire involving two tractor-trailers and at least four other vehicles Friday, Nov. 8, afternoon on northbound Interstate 35 in Denton, Texas.
One of the trucks involved was pulling a flatbed trailer loaded with tanks of butane. The crash is said to have occurred near mile marker 84.
Northbound I-35 is expected to be closed until sometime Saturday.
Details remain sketchy as police and fire officials continue their investigations. The driver of one of the tractor-trailers was treated at the scene for minor injuries. There are no details on the driver of the other truck.