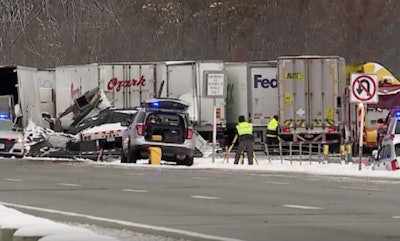 Significant early snows in the Midwest Tuesday, Nov. 12, caused two huge pileups in Ohio and led to two fatal accidents, including one involving the driver of a tractor-trailer.
A total of 85 vehicles were involved in a crash in whiteout conditions Tuesday morning on State Route 8 near the city of Hudson about 15 miles north of Akron. News 5 of Cleveland reports five people were injured in the pileup, none seriously. Route 8 was closed until late afternoon.
Whiteout conditions and slippery roads are being blamed for a second massive wreck in Ohio, this one involving some 50 vehicles, including several tractor-trailers. Two people are said to have been injured seriously in the collision that occurred on Interstate 80 near Austintown, Ohio about 10 miles west of Youngstown.
Also on Tuesday morning, the driver of a tractor-trailer died when he was thrown from his truck as it crashed into an emergency vehicle on Interstate 70 in Clark County between Dayton and Columbus. That truck driver was not identified by police.
A 21-year-old woman from Medina, Ohio was killed Tuesday morning in a 16-vehicle crash on the Ohio Turnpike in Richfield about 20 miles south of Cleveland.