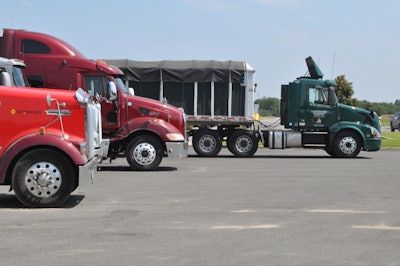 Time is running out on the latest technology change coming to the cabs of the trucking industry.
Starting Dec. 17, all motor carriers and drivers subject to the Federal Motor Carrier Safety Administration's electronic logging device final rule must use an ELD, according to the Commercial Vehicle Safety Alliance.
The deadline is significant for carriers and drivers utilizing grandfathered automatic onboard recording devices, which will no longer be allowed to provide records of duty status as a substitute to a required ELD. Motor carriers utilizing an AOBRD must have a fully operational ELD installed and in use on Dec. 17.
The CVSA says there will be no extensions or exceptions made to the Dec. 17, ELD deadline. CVSA said there will be no "soft enforcement" grace period.
Drivers not utilizing a registered ELD and subject to the rule on will be considered to have no record of duty status or no logbook, according to CVSA. That also applies to a driver still using an automatic onboard recording device. Such a driver will be declared out of service for 10 hours.