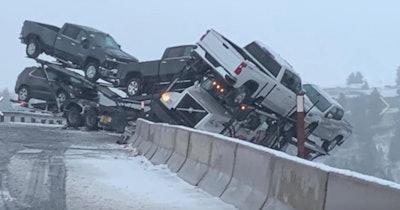 The driver of a car hauler that teetered on the edge of disaster in Washington Wednesday, Dec. 11, morning escaped injury and much worse.
Washington State Patrol reported the truck with six vehicles on its trailer almost slipped off Highway 195 near Colfax about 60 miles south of Spokane in the southeast part of the state. The truck reportedly slid on ice on the highway, headed toward the edge of the highway and was stopped from plunging down Buck Canyon by a tire catching on the guardrail.
"He is lucky to be alive," a WSDOT official told a KHQ television reporter.
Authorities did not identify the driver.
A semi truck carrying 6 cars is hanging onto Hwy 195 by Colfax. The driver is okay. Should be cleared within the hour @KHQLocalNews one lane is open. pic.twitter.com/W2abtaLzTu

— KHQ Stephanie Stevenson (@KhqStevenson) December 11, 2019
SR195 just north of Colfax

Troopers and @WSDOT_East crews are working to clear non-injury semi crash.

Roadway is clear. Tow truck is on scene. pic.twitter.com/wYtzRp0Y0I

— Trooper J. Sevigney (@wspd4pio) December 11, 2019