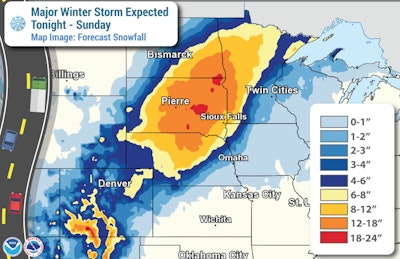 A major winter storm could cause problems for truckers traveling through much of the midsection of the country through the weekend.
The Nation Weather Service says winter storm watches in effect for states from Colorado to Minnesota. The current outlook calls for from 6 to 12 inches of windblown snow from northern Nebraska to southeastern North Dakota. Blizzard conditions are likely for some of these areas. Heavy snow is also expected in the central Rockies. Farther to the southeast, freezing rain and sleet are expected from eastern Nebraska to northern Wisconsin.
Elsewhere, showers make a return to western Washington and Oregon as a weakening cold front approaches this region.
Scattered showers and a few storms are likely for the Florida Peninsula with a sustained period of moist southeasterly flow.
Mild and dry conditions are forecast to continue through Saturday from North Carolina to southern New England before rain returns on Sunday.