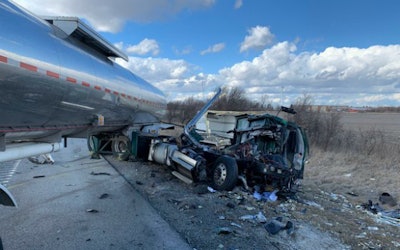 Several tractors-trailers ere involved in two separate accidents Tuesday, March 3 on Interstate 65 in Indiana.
Indiana State Police report that two tractor-trailers collided at about 2 p.m. in the northbound lanes at mile-marker 198 in Remington about 60 miles south of Gary. Apparently, a string gust of wind blew across the highway from the west causing the trailer of one truck in the left lane to go airborne and strike the truck in the right lane.
The troopers say both drivers then lost control of their vehicles. One struck the median guardrail before hitting a concrete bridge abutment. The cab of the truck then separated from the frame, according to a statement from the police. The truck continued down into a nearby creek while the cab came to rest on its side in the median. The second truck crashed into the east ditch.
The troopers say both drivers were transported from the scene with non-life-threatening injuries.
A second crash occurred at the 197 mile-marker almost immediately after the first. That crash involved two tractor-trailers and a box truck.
In that crash, a box truck was rear-ended by a tanker, which pushed the box truck into the rear of a second semi. The box truck then crashed into the right ditch while the tanker jack-knifed and crashed into the median before also coming to a rest in the right ditch.