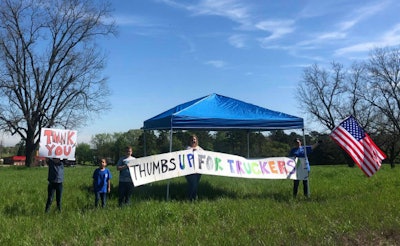 Businesses and communities around the country are finding ways to help members of the trucking industry in the demanding days of the COVID-19 coronavirus pandemic. Chiefly, truckers are being offered free food, free parking and plenty of gratitude.
California truck stop, software maker feeding truckers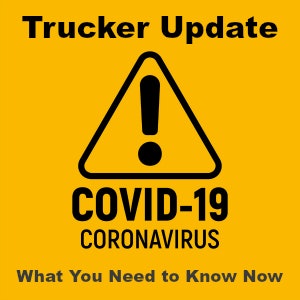 One California truck stop and a trucking software maker have paired up to feed truckers breakfast for free.
The San Paso Truck Stop in cooperation with its partner Melton Technologies, Inc. is feeding all truckers who come to the truck stop at 81 Wellsona Rd., Paso Robles, California.
The free meal includes a breakfast burrito, hot coffee, and a thank you card from Melton Technologies and the truck stop.
"You have been helping us for years by visiting our San Paso Truck Stop and buying food, fuel and goodies from us," said truck stop owner Andy Pham. "It's helped a lot! Now our nation is in peril, and it is you the truckers who are the backbone for bringing our nation back on its feet again. Who in America knows the hard work you do? WE DO!"
Located just north of Paso Robles on Highway 101, the San Paso Truck Stop has been serving motorists in wine country since the 1950s. The truck stop is located about halfway between San Francisco and Los Angeles.
Melton Technologies, a developer of fleet dispatch technology, has been providing transport technology since 1984.
Free parking for truckers in Missouri
Another person has stepped up to help truckers find a place to park.
Bob Mericle, who operates Bob's Parking off Interstate 44 near Springfield, Missouri is offering truckers free nightly parking — up to 24 hours — at his 400-acre lot.
The lot is located at 9870 Highway 00, Strafford, Missouri 65757.
Mericle said it was his way of thanking truckers for their work during the COVID-19 coronavirus outbreak.
Big Apple Travel Centers offers free truck parking
Joplin, Missouri-based Big Apple Travel Centers today announced it is making truck parking free.
In a statement, the company said:
"In our best efforts to help with the current ongoing situation
"We are offering all truck parking for free. We have removed our reserved parking signs and drivers are more than welcome to park in our reserved parking.
"We are also offering a free pair of gloves to drivers and customers in need. Please approach your cashier and ask for a free pair!"
Big Apple Travel Center is located Interstate 49 at 2100 S. Prigmor Ave.
Washington school opens for truck parking, driver amenities
Woodland High School may be closed to students, but the Washington institution is open for truckers.
The campus, located at 1500 Dike Access Road, off of nearby Interstate 5, was closed, like many other schools around the country, until at least April 24 because of the COVID-19 coronavirus outbreak.
Woodland resident Eric Hansen approached the school district, which agreed to open the facilities around the clock for drivers.
Truckers can now park in the school lot, have access to showers, and can rest and recover from the drive. The Woodland School District also said it plans to coordinate with nearby restaurants and community members to help provide access to hot meals.
Love's reports employee tests positive for COVID-19
One Love's Travel Center in Oklahoma has closed temporarily after an employee tested positive for COVID-19. The company said on its COVID-19 resource page, "This is our first confirmed case as a company."
The company added:
"The safety of our employees and customers is our top priority, and we have hired a professional cleaning team to disinfect the store during the closure. Additionally, we have directed other employees who were in close contact with the team member to contact their healthcare provider and to self-quarantine for 14 days or until cleared. The employee has not worked in the store in the last week. We will notify the public when this location reopens. Currently, all other Love's locations are open to customers.
And, here's what we've seen on social media: