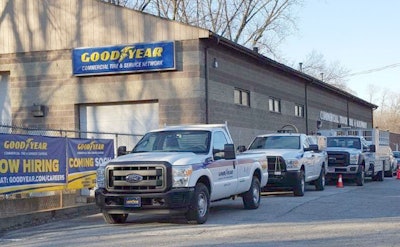 Goodyear CTSC Truck Care Centers announced they are offering free Department of Transportation inspections, including a full review of the tractor and trailer, brake systems, tires and wheels, exhaust systems, lighting and more. Goodyear Commercial Tire & Service Centers locations nationwide are expected to remain open to meet critical tire and service needs in states that have issued "stay-at-home" or similar non-essential business closure orders.
Frank Payne, director of Goodyear Commercial Tire & Service Centers, said the chain is taking a number of precautions to minimize the spread of COVID-19 at all its centers "so we can remain open and keep vehicles on the road."
To reduce the spread of illness, he said all centers are following the guidance of the Centers for Disease Control and Prevention and taking a number of preventative measures, including enhanced disinfection, visitor protocols, and physical distancing.