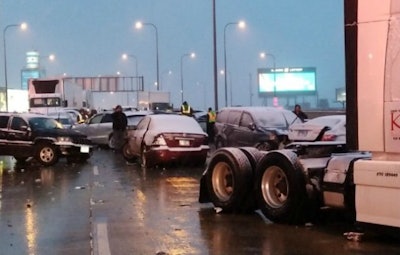 Chicago's morning commute was disrupted by a massive pileup on the Kennedy Expressway.
Some 60 vehicles were involved in a series of collisions that began at about 5:45 a.m. on the inbound lanes near North Avenue. Authorities say there was ice on the highway surface at the time of the crashes.
Fourteen people were transported to hospitals for treatment of injuries, none of which life-threatening. Another 32 people were treated at the scene of the pileup and did not need to be transported to a hospital.
The expressway was reopened in both directions by 8:15 a.m.
A winter weather advisory was in effect at the time of the mishap.
Absolute chaos on the roads today. 50 or more cars involved in an accident on the inbound Kennedy at North ave due to low traction on the roads. #cbschicago pic.twitter.com/ithhpMVk16

— Alfredo Roman (@aromanchi) April 15, 2020