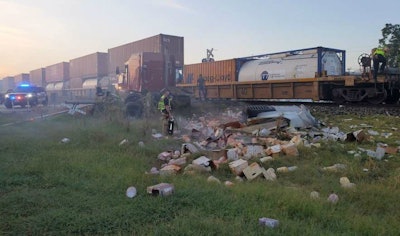 A tractor-trailer loaded with food items was struck by a train near San Antonio, Texas this morning, Monday, July 13.
Police said the truck got stuck on a high-center area of the tracks near in Cibolo, Texas, which is north of San Antonio. The collision occurred at about 7 a.m. when the tractor-trailer was unable to move out of the path of the train. The trucker was able to get out of the truck and tried to flag down the train before the collision, according to police. No one was injured.
A Cibolo Police Department officer said the driver ignored signs warning drives that the area isn't a thoroughfare because of the high-center tracks. The driver was cited at the scene.