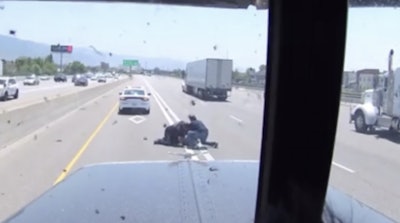 Two truck drivers are being called heroes for stopping to assist a Utah Highway Patrol officer wrestling with a man on Interstate 15 near Layton last week.
On Thursday, July 9, Trooper Justin Law was dispatched to see if a man walking on the side of I-15 southbound near Layton Parkway needed help. Trooper Law tried to get the man to stop crossing the interstate and the two wound up wrestling in the HOV lane.
Trucker Ray Snyder stopped his truck to block traffic in the lane and jumped out of his truck to help the trooper. A second trucker also stopped to the side of the three men and jumped out of his rig to help. The second trucker was not identified.
"It makes me happy that there are those people out there," Trooper Law told KSL-TV. "There are those truck drivers that when they see someone in need like me, rolling around on the interstate in a dangerous situation, that they're willing to stop and even put their lives in a little bit of risk, to help out."
Reports of the incident did not make clear why the man was walking on the interstate or why he refused to stop for the trooper.
Layton is located about 25 miles north of Salt Lake.
Here is dashcam video from the first truck driver who stopped to help the @UTHighwayPatrol trooper. @KSL5TV at 5 and 10. #ksltv #utah #uhp pic.twitter.com/wGjrsppJkh

— Alex Cabrero (@KSL_AlexCabrero) July 11, 2020