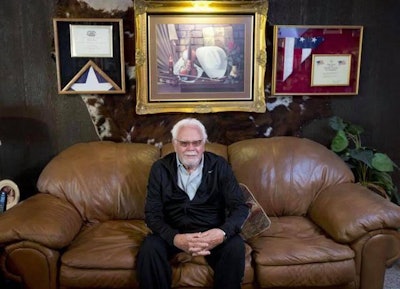 Bill Mack, known to listeners of his country music show as The Midnight Cowboy, died Friday, July 31. He was 88.
His son, Billy Mack Smith posted on Facebook that his father died of "COVID-19 with underlying conditions."
Starting in 1969, Mack rose to fame, especially with truckers, as a disc jockey on WBAP-AM, a 50,000-watt clear-channel station in the Dallas-Fort Worth area. His program was known first as The Country Roads Show, then the U.S. 1 Trucking Show and later still as The Midnight Cowboy Trucking Show. Mack eventually joined what would become the satellite broadcaster Sirius/XM, having a show there until 2011.
Mack also had a varied career in country music as a performer, songwriter and concert promoter. He is credited with launching the career of a then-teenaged LeAnn Rimes. She recorded his song, Blue, when she was just 13. It won her the Grammys for best country female vocal performance and best new artist. And, the song won Mack the Grammy for best country song.
Mack is survived by his wife, Cynthia and three children: Misty Dawn, Billy Mack III, and Sunday Renee. They had several grandchildren. He also had a daughter named Debbie from a previous marriage.
Mack was born in Shamrock, Texas June 4, 1932.