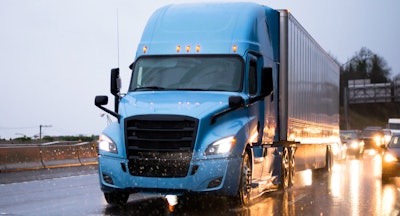 Like so many other trucking industry events of late, the Federal Motor Carrier Safety Administration's annual Safety Summit moved from being an in-person gathering to being an online event.
The virtual event is Wednesday, Aug. 5 from 9 a.m. to 4 p.m. Its aim is to gather information about the safe operation of commercial vehicles, and includes carriers, drivers, safety technology developers and users, federal and state officials, safety advocacy groups, and members of the public.
Registration is required for each of the day's eight sessions. The agenda for the summit includes:
9 a.m. to 10 a.m. Introduction and Association Perspective
Moderator: Deputy Administrator Jim Mullen
Panelists:
Chris Spear, American Trucking Associations
Dan Furth, National Tank Truck Carriers
Steve Owings, Road Safe America
Lewie Pugh, Owner-Operator Independent Drivers Association
10:10 a.m. to 10:55 a.m. What's Working I
Moderator: Steve Parker
Panelists:
Thomas DiSalvi, Schneider National, Inc.
Steve Fields, YRCW
Jamie Maus, Werner
Dean Newell, Maverick
11:05 a.m. to 11:50 a.m. – What's Working II
Moderator: Shannon Watson
Panelists:
Ingrid Brown, Rollin' B, LLC
Dave Edmondson, J&M Truck Group
Brett Sant, Knight-Swift Transportation Holdings, Inc.
11:50 a.m. to 12:30 p.m. Lunch Break
12:30 p.m. to 12:50 p.m. Special Guest Speakers
Federal Highway Administration Administrator Nicole Nason and National Highway Traffic Safety Administration Deputy Administrator James Owens
1 p.m. to 1:50 p.m. State Partner Discussion
Moderator: Thomas Liberatore
Panelists:
Collin Mooney, Commercial Vehicle Safety Alliance
Captain Jon Olsen, Minnesota State Patrol
Major Jeremy Vickery, Georgia Department of Public Safety
2 p.m. to 2:50 p.m. Technology
Moderator: Jeff Loftus
Panelists:
Richard Beyer, Bendix
Ritchie Huang, Daimler
Greer Woodruff, JB Hunt
3 p.m. to 3:50 p.m. – Florida Safety Story
Moderator: Jeff Sanderson
Panelists:
Kenneth Armstrong, Florida Trucking Association
Mike Cobb, Landstar Transportation Logistics
Jeffery Dixon, Florida Highway Patrol
Jeff Sanderson, FMCSA Florida Division
4 p.m. to 4:30 p.m. Open Forum for Public Comment
Moderator: Heather Eilers-Bowser
PUBLIC COMMENT: All persons wishing to speak must register in advance. Speakers are asked to keep their comments short and succinct.
Persons wishing to propose questions for panelists may do so by using the Question Module during that particular session.
Those wishing to submit longer written comments, data or analysis on trucking safety may do so online at FMCSA-2020-0076.
To register for individual sessions:
Session 1: [Introduction + Association Perspective] Registration Link
Session 2: [What's Working I] Registration Link
Session 3: [What's Working II] Registration Link
Session 4: [Special Guest Speakers FHWA + NHTSA] Registration Link
Session 5: [State Partner Discussion] Registration Link
Session 6: [Technology] Registration Link
Session 7: [Florida Safety Story] Registration Link
Session 8: [Open Forum for Public Comment] Registration Link
After registering, you will receive a confirmation email containing information about joining the webinar.