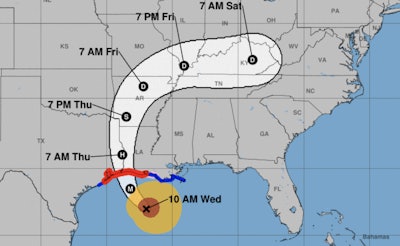 Expect Hurricane Laura to wreak havoc along the Gulf Coast and beyond, so truckers traveling through or to the South and parts of the lower Ohio Valley the rest of the week ought to adjust their trip planning accordingly.
Now a category 4 storm, Laura is forecast to arrive on the Texas and Louisiana coasts tonight with winds as high as 145 mph.
The National Hurrican Center warns on its Facebook page:
LAURA CONTINUES TO RAPIDLY STRENGTHEN AND IT IS EXPECTED TO BECOME AN EXTREMELY DANGEROUS CATEGORY 4 HURRICANE … CATASTROPHIC STORM SURGE, EXTREME WINDS, AND FLASH FLOODING EXPECTED ALONG THE NORTHWEST GULF COAST TONIGHT … ONLY A FEW HOURS REMAIN TO PROTECT LIFE AND PROPERTY.
At least 23 people are said to have died as Laura passed through the Caribbean.
The Hurricane's Center Facebook post adds for details: