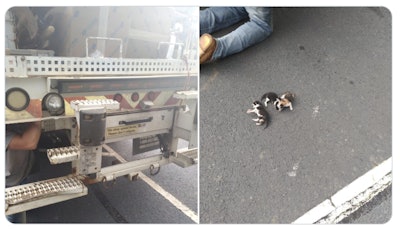 Truckers cover a lot of ground in their line of work and not surprisingly have encounters with animals along the highway.
We at Truckers News have reported on a poisonous snake in one trucker's cab and a wild turkey inside another. And, last year we shared a story of how one trucker collided with a 12-foot-long, 463-pound alligator.
But, an animal encounter Tuesday, Aug. 25, in Georgia was a bit tamer, but no less unusual.
A Georgia Department of Public Safety was conducting an inspection of a tractor-trailer when he heard familiar meowing from under the trailer. Following the sound, the inspector located three fairly young kittens that had somehow stowed away under the truck's trailer.
The GDPS reports on Twitter the three kittens were fine and the trucker was happy to adopt them. And, the driver passed the inspection as well.
Officer Griffin (Region 3), was conducting an inspection when he heard the sound of kittens coming from under the truck. He and the driver discovered three kittens hiding out under it. The driver received no violations but was issued three kittens which he gladly wanted. #gamccd pic.twitter.com/0pObA6DM46

— Georgia Department of Public Safety (@ga_dps) August 25, 2020