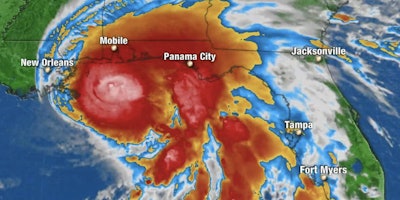 Hurricane Sally made landfall as a Category 2 storm just before 5 a.m. Central Time Wednesday, Sept. 16, at Gulf Shores, Alabama, with high winds and heavy rain affecting areas from around the Mississippi/Alabama border through much of the Florida panhandle.
(This is a developing story, which we will update as developments warrant.)
Truckers News reached out to drivers on Facebook asking about what they're seeing as they drive through that area. Delonda Giles-Porter said, "
Went through there last night around 8 p.m. headed to West Palm Beach, Florida. Got through Mobile and Pensacola doing 45 to 50 mph. High winds and heavy rain. Got through there then got word they shut the Bayway down. We're being rerouted up I-75 through Atlanta to get back to Texas from Florida."
Najaah Ramkissoon reports: "
In Alabama and it's high winds and heavy rain out here. Drive slow."
On Tuesday, Sept. 15, the Federal Motor Carrier Safety Administration issued a regional emergency declaration for Alabama, Florida, Georgia, Louisiana, and Mississippi, allowing carriers providing emergency relief in the affected areas to waive the hours of service regulations.
The waiver applies to carriers providing direct assistance supporting emergency relief efforts transporting supplies, goods, equipment and fuel.
The agency also waived the Temporary Operating Authority Registration fee for carriers requesting temporary authority to provide direct assistance to emergency relief efforts.
The National Hurricane Center this morning reported the center of Hurricane Sally was located inland about 20 miles west of Pensacola, Florida, and has maximum sustained winds of 85 mph. It is rated as a category 1 hurricane and is expected to drop as much as 35 inches of rain.
Some 500,000 homes and businesses were without power in Alabama, Florida, and Louisiana. The storm is forecast to move inland across southeastern Alabama tonight, delivering what the Weather Service calls "life-threatening" rainfall over parts of the Gulf Coast, Florida panhandle and southeastern Alabama.