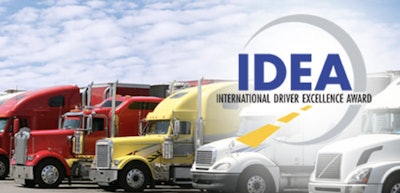 The Commercial Vehicle Saftey Alliance is accepting nominations for the 2021 International Driver Excellence Award (IDEA).
This annual award recognizes individuals who go above and beyond the performance of their duties as a commercial vehicle driver, distinguishing themselves conspicuously and beyond the call of duty through the achievement of safe operation and compliance carried out with evident distinction for an extended period of time. The nominated individual must be of personal character beyond reproach with no disqualifying past behavior, as indicated in the IDEA award criteria.
Nominees must have:
At least 25 cumulative years of crash-free driving in a commercial motor vehicle with a clean driving record for the past three years
No felony convictions
No safety-related driving suspensions in the past three years
No driver violations in the past three years, excluding form and manner violations
The IDEA winner will receive a check for $2,500 and a crystal trophy.
The IDEA winner will be presented with his/her award and receive public recognition during the general session of the CVSA Workshop in Louisville, Kentucky, on April 19. If the 2021 CVSA Workshop is held in-person, the IDEA winner will also receive airfare for the winner and one guest to Louisville, Kentucky, to receive his/her award during the general session of the CVSA Workshop and two-night hotel stay at the Louisville Marriott Downtown
The deadline to submit the 2021 IDEA nomination form is Dec. 11.
The IDEA Program Committee will review and authenticate all nominations. The final decision to recognize and honor the nominee will be made by the CVSA Executive Committee.