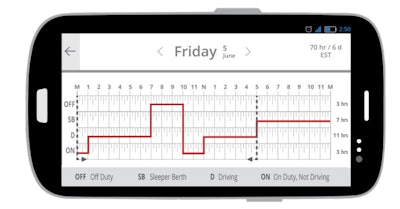 Come next Tuesday, Sept. 29, some widely anticipated changes to trucking industry regulations take effect. At 12:01 a.m. EDT that day, drivers will see several provisions of the rules regulating their hours of service change, the first significant change in more than 15 years.
It was a process that began in earnest with the arrival of Ray Martinez as the Trump Administration's first administrator of the Federal Motor Carrier Safety Administration. It advanced to the White House under Jim Mullen, who replaced Martinez and goes into effect next week on the watch of Deputy Administrator Wiley Deck, who took over following Mullen's departure this summer.
(Read the entire new rule as posted by the FMCSA.)
The focus of the regulatory change has been, according to the FMCSA throughout the process, to give truckers greater flexibility in how they manage their time spent working. The agency also said "modernizing hours of service regulations is estimated to provide nearly $274 million in annualized cost savings for the U.S. economy."
What do the changes include?
This:
drivers will be allowed to use their 30-minute break in an on-duty, not-driving status and requiring it within their first eight hours of drive time, rather than their first eight hours on-duty
modifies the sleeper-berth exception to allow drivers to split their 10-hour off-duty period into windows of seven hours and three hours, in addition to the existing eight-hour, two-hour option. It also adds the shorter period in any split off-duty will pause the rolling on-duty clock
allows drivers to extend their drive-time limit and their on-duty window by two hours if they encounter adverse weather conditions or traffic congestion
changes the short-haul exception available to some commercial drivers by lengthening their maximum on‑duty period from 12 to 14 hours and extending the distance limit within which the driver may operate from 100 air miles to 150 air miles
(See more on the changes from FMCSA)
How have drivers reacted to the new rules?
In mid-May when the changes were finalized and the clock started ticking down to next Tuesday's implementation, we asked readers of Truckers News what they thought of the changes. In our unscientific poll, we asked, "What best describes your reaction to hours of service rules change?" The results:
32.6% agreed with, "Now they need to make REAL changes for truckers."
22.3% chose, "Took too long and delivered too little."
22% agreed with, "So what? None of the changes will benefit me."
17.4% chose, "Thanks! All the changes will be helpful to me."
5.8% agreed with, "Shows how the system can work for truckers."
What did trucking organizations think of the changes?
"The new hours-of-service changes show that FMCSA is listening to industry and fulfilling its duty to establish data-driven regulations that truly work," said Truckload Carriers Association President John Lyboldt. "We especially thank the agency for moving forward with additional sleeper berth flexibility. While TCA and our members advocate for full flexibility in the sleeper berth for our drivers, FMCSA's new regulations demonstrate that we are one step closer to achieving that goal."
"No rule will satisfy everyone, even within our industry, but this one – crafted with a tremendous amount of input and data – is a good example of how by working with stakeholders on all sides, government can craft a rule that simultaneously benefits the industry, specifically drivers, and maintains highway safety," said Randy Guillot, president of Triple G Express Inc. and chairman of the American Trucking Associations.
"While we were hoping for some additional changes such as more split sleeper options and more flexibility to use the 30-minute break, all things considered, we're happy with the final rule," said Lewie Pugh, executive vice president of the Owner/Operator Independent Drivers Association.
Aren't the changes being challenged in court?
A lawsuit has been filed, but it will not delay the implementation of the hours of service changes.
A lawsuit was filed in the U.S. Court of Appeals for the District of Columbia Circuit earlier this month by the International Brotherhood of Teamsters, Advocates for Highway and Auto Safety, Parents Against Tired Truckers, and Citizens for Reliable and Safe Highways The suit argues the changes that take effect Sept. 29 are not based on data. They also claim the hours changes will increase, not decrease, driver fatigue.
Teamsters General President James P. Hoffa said, "By issuing this HOS regulation FMCSA has bowed to special trucking industry interests at the expense of highway safety, seeking longer workdays for drivers who are already being pushed to the limit. We join this lawsuit to ensure that our members and their families are protected from fatigued drivers when they use our nation's highways."