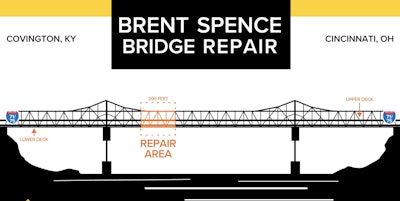 Gov. Andy Beshear and Kentucky Transportation Cabinet Secretary Jim Gray Tuesday, Dec. 22 announced the end of a six-week emergency repair project to restore and reopen the Brent Spence Bridge one day ahead of the scheduled completion date. Travel lanes and various access ramps leading to the bridge reopened to full capacity throughout the afternoon and evening, once lane striping on the upper and lower decks is complete.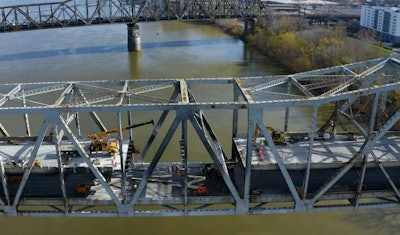 The Brent Spence Bridge, which carries Interstates 71 and 75 over the Ohio River between Covington, Kentucky, and Cincinnati closed Nov. 11, due to a crash and fire involving two commercial vehicles. The final inspection was completed Monday evening, paving the way for the gradual reopening of the bridge and the travel lanes and ramps that support access to it.
"We are pleased to reopen the Brent Spence Bridge ahead of schedule and return one of the nation's busiest and most important economic travel corridors to public use," said Gov. Beshear. "I commend the dedicated employees of the Transportation Cabinet for working with deliberate speed and adhering to strict safety guidelines in a time of unprecedented uncertainty in our great state."
Less than a week after the closure, KYTC awarded a $3.1 million contract to prime contractor, Kokosing Construction Co., of Westerville, Ohio, with a target reopening date of Dec. 23.
Repairs to the bridge included:
Replacing 16 steel beams that were damaged by the fire
Pouring new upper deck driving surface and concrete barrier wall
Pouring new layer of concrete on lower deck and new concrete barrier wall
Removing and installing drainage system
Installing new overhead lights
Restriping new concrete on upper and lower decks
The Brent Spence Bridge, which was designed to carry 80,000 to 100,000 vehicles per day, now carries abouit twice that across the Ohio River. Discussions continue between KYTC and its partner agency, the Ohio Department of Transportation, about plans to build a companion bridge to the west of the existing bridge to increase capacity.