One of the country's leading trucking organizations is praising Department of Transportation Secretary Elaine Chao, who resigned Thursday, Jan. 7, in conjunction with Wednesday's violent attack on the Capitol by supporters of President Donald Trump that left five people dead, including a Capitol Police officer.
The attack came as results of November's presidential election were being certified and after Trump spoke to a noon rally of thousands of his supporters.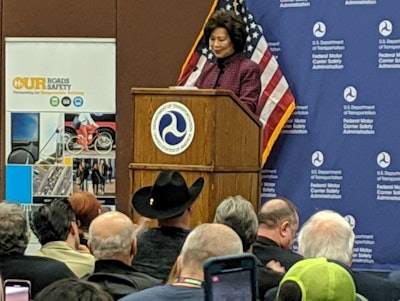 "Secretary Chao has been a strong leader and a tremendous partner on a host of issues impacting the trucking industry. She came into the role as one of the most experienced cabinet secretaries in our nation's history and has proven to be a leader who embodies integrity, courage, and conviction," said American Trucking Associations President and CEO Chris Spear in a statement. "From the department's efforts to improve safety while providing flexibility for commercial drivers, drawing a roadmap for future transportation leaders to follow on automated vehicles, and recognizing the unique role drivers play in our industry, she should be commended for her vision."
Spear also praised Chao for resigning over Wednesday's violence.
"On a personal note, having worked for and with her over many years, I can attest that Elaine is a person of strong moral character, and should be applauded for not standing idly by following yesterday's abhorrent and shameful events at the Capitol," said Spear. "This is the kind of principled stand in support of our democracy I've always known her to take. On behalf of ATA and the entire trucking industry, I want to thank her for her admirable service to our nation."
Education Secretary Betsy DeVoss also announced her resignation, as have several White House staffers.