America's trucking industry is pleased that former South Bend, Indiana Mayor Pete Buttigieg was quickly confirmed as Transportation Secretary by the Senate this week and appears anxious to work with the youngest member of President Joe Biden's cabinet.
The Truckload Carriers Association Tuesday, Feb. 2 posted to its Facebook page:
The Truckload Carriers Association congratulates Pete Buttigieg on his confirmation as Secretary of Transportation. This is a critical time for our industry and the country, and we look forward to working with him and staff on regulations that will allow trucking to help pull our country out of the pandemic and corresponding economic downturn.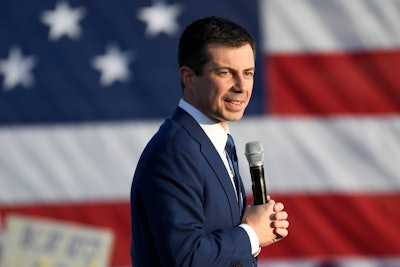 TCA is encouraged by Secretary Buttigieg's commitment to helping advance significant infrastructure reform this year. We appreciate his understanding of the desperate need for an improved network of highways and bridges which will provide efficient and safe movement for not just our industry's trucks, but also the general motoring public.
While the new nominee for Administrator of the Federal Motor Carrier Safety Administration (FMCSA) has not yet been named, we encourage Secretary Buttigieg to prioritize trucking issues within his Department. Several proposals put forward by FMCSA in the past year have not been finalized, but we believe that it would be in the best interest for all stakeholders for these programs to move forward. These include pilot programs to study incorporating full sleeper berth flexibility into the hours-of-service regulations and studying the safety performance of 18-20-old-drivers in interstate commerce. Pilot programs such as these will enable the Agency to collect meaningful real-world information, leading to true data-driven regulations.
TCA strongly advocates for the federal preemption of state meal and rest break laws, which the Department of Transportation has historically supported, and we urge Secretary Buttigieg to continue this approach. The patchwork of individual state laws applying to drivers' meal and rest breaks creates a confusing environment in which safety is compromised. Laws which impose substantiative standards related to price, route, or service of a motor carrier can and must be preempted under the Federal Aviation Administration Authorization Act as interfering with interstate commerce, a view which was recently upheld by the Ninth Circuit Court of Appeals.
Additionally, we are hopeful that the Department of Transportation under Secretary Buttigieg will prioritize adding hair test results into the Drug and Alcohol Clearinghouse. Hair testing has proven to be a more accurate method of identifying drug users than the currently approved methods. Truckload carriers who utilize hair testing are unable to share their knowledge about a driver's drug use with other potential employers because these results cannot be entered into the Clearinghouse. We call on Secretary Buttigieg to work with industry to help close this loophole.
The National Association of Truck Stop Owners also offered its congratulations to and expectations of Buttigieg. NATSO President and CEO Lisa Mullings Tuesday issued this statement:
"NATSO congratulates Pete Buttigieg on his confirmation as Secretary of Transportation and looks forward to working with him on a broad spectrum of issues, including the need for long-term, sustainable highway funding and policies that further encourage private-sector investment in alternative fueling infrastructure, such as electric vehicle charging.
As the nation continues to grapple with the economic devastation caused by the COVID-19 pandemic, we look forward to working with Secretary Buttigieg on policies that encourage off-highway businesses and communities to thrive and evolve.
We are encouraged that Secretary Buttigieg, as a former mayor, understands the important role that infrastructure policy plays for local businesses and communities that thrive because of the Interstate Highway System.
As Secretary Buttigieg considers proposals for funding infrastructure and the reauthorization of surface transportation law, we encourage him to focus on solutions that solve our infrastructure investment challenges without harming the interstate-exit based businesses that help to support the nation's economy and their local communities by providing jobs and crucial tax revenues. Maintaining existing policies that prohibit commercialization of Interstate rest areas and the longstanding ban on tolling existing Interstate Highways are key to that effort.
NATSO's nationwide network of truck stops, travel plaza and off-highway fuel retailers support the new Administration's focus on quickly and efficiently bringing alternative fuels to market, including electric vehicle charging. We stand ready to work with Secretary Buttigieg to further encourage private-sector investment in alternative fueling infrastructure."
"
I'm honored to serve as Secretary of Transportation and help build the kind of infrastructure that creates jobs, empowers all, and keeps travelers & workers safe," said Buttigieg today. "It's time to get to work."