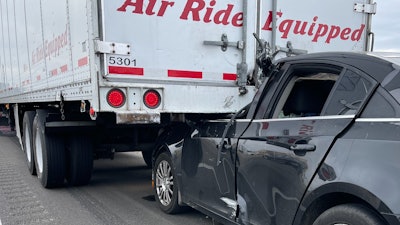 CHP photo
Tractor-trailers were involved in two serious accidents earlier this week. A car was dragged down the highway in one and a freight train destroyed a truck in the other.
California Highway Patrol reports a 36-year-old woman was driving a 2012 Chevy Cruze in the southbound lane of State Route 99, in Modesto Tuesday, Feb. 9. CHP said she took her eyes off the highway when she reached down to grab something. When she looked up, she crashed into the rear of the tractor-trailer. The truck driver pulled to the shoulder as they dragged the car behind the trailer.
An air ambulance transported the woman to the local area trauma center with major injuries, according to CHP, which said the trucker was uninjured.
Truck struck by train in Colorado
On Thursday, Feb. 11, the driver of a tractor-trailer is reported to have been seriously injured when his rig was struck by a freight train on Colorado Highway 14 in Ault, which is located about 189 miles east of Fort Collins.
The truck was struck at a crossing by a Union Pacific train. The truck's unidentified driver was taken to Northern Colorado Medical Center with serious injuries, according to the Ault Police Department. There were no reports of injuries among the train crew.
Ault Police continue their investigation.