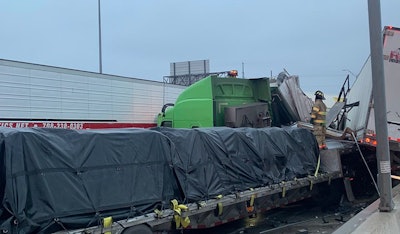 Authorities continue to investigate a more than mile-long pileup of at least 100 vehicles, including numerous tractor-trailers, that occurred this morning, Feb. 11, on southbound Interstate 35-west near Fort Worth, Texas. The first collision occurred at about 5:30 a.m. on a highway made slippery by overnight freezing rain, according to multiple media reports.
First responders went vehicle to vehicle on foot to find victims. Five people were declared dead at the scene and at least 36 were transported by ambulance to local hospitals, some with serious injuries. Some 40 uninjured motorists were transported to a facility to be reunited with family members.
Freezing rain blanketed much of the Dallas-Fort Worth region and elsewhere in north Texas. Numerous accidents caused by icy roads were also reported in Arlington, Garland, Irving, Plano, Carrollton, Grapevine, and Frisco. First responders in several communities reported numerous weather-related accidents as early as midnight.
I-35 in both directions was closed for the entire morning, and beyond.
And, it looks as though there is much more nasty winter weather in store for Texas and much of the rest of the U.S.