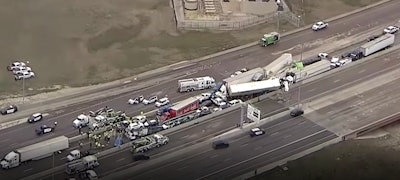 As more bad winter weather arrives, officials investigating Thursday morning's massive series of collisions on Interstate 35W in Fort Worth have increased the number of people killed and how many vehicles were involved.
Authorities now say six people died in the accident that occurred at about 6 a.m. on icy roads and stretched for more than a mile and a half on the interstate. They have also increased the number of vehicles involved to 133. At least 36 people were taken from the scene by ambulance and at least 65 more sought medical care on their own.
Some 80 police units responded to the scene as well as 13 ambulances.
Areas of light freezing rain and some sleet were reported across the Dallas-Fort Worth area at about the time of the wreck. About a tenth of an inch of ice accumulated just north of Fort Worth, the National Weather Service said.
Weather Service: Travel is highly discouraged
A winter storm warning is in effect for much of Texas, including the Dallas-Fort Worth area. The weather service reports:
"A Winter Storm Warning will be in effect from 6 a.m. Saturday morning through 6 p.m. Monday evening for the entire region. Heavy mixed precipitation is expected, with 3-6 inches of total snow accumulations possible. Strong winds will lead to drifting and blowing snow, which has the possibility of reducing visibilities to 1 mile at times. Temperatures will be EXTREMELY cold, with near- blizzard conditions are possible. Hazardous travel is likely for several days due to icy bridges and roadways, and travel will become impossible and possibly life-threatening. Wind chills as low as -15 F for several days could induce hypothermia. Travel is highly discouraged for Monday and Tuesday."