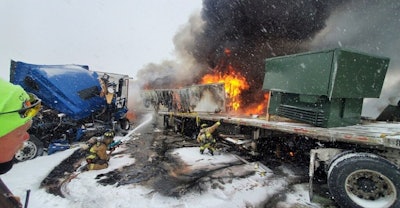 Several major storm systems caused problems for truckers over the weekend and bad weather continues today and remains in the forecast for most of the country. As a result, weather conditions and resulting accidents closed numerous highways, and truck travel is being restricted in at least two states.
Conditions caused by what the National Weather Service is calling an "unprecedented and expansive area of hazardous winter weather" continue to plague New Mexico, Texas, Oklahoma, Arkansas, and Louisiana prompting road closings, power outages, school closings and numerous serious accidents.
The severe weather extends across much of the South, prompting an emergency declaration in Alabama. Those serious winter weather conditions are spreading across parts of the Midwest, and Ohio and Mississippi Valleys and are headed to the Northeast, where at least two states are already restricting truck travel. A separate storm is delivering snow and rain across the Northwest and West.
This is the latest from the National Weather Service:
Over 150 million Americans are currently under winter storm warnings, ice storm warnings, winter storm watches, or winter weather advisories as impactful winter weather continues from coast-to-coast.
Major winter storm to spread heavy snow and significant ice accumulations from the Southern Plains and Ohio Valley to the Northeast.
Additional winter weather is expected for the Northwest this morning, spreading south and east through Tuesday.
Frigid Arctic air and dangerously cold wind chills to persist in the Heartland through a good part of the week.
Severe thunderstorms, heavy rain, and warm temperatures are expected for southern Georgia and Florida.
Federal emergency declared in Texas
President Joe Biden declared a federal emergency in Texas. This orders "federal assistance to supplement state and local response efforts due to the emergency conditions resulting from a severe winter storm beginning on February 11, 2021, and continuing," according to the emergency declaration. For the first time in history, all 254 counties in Texas remain under a winter storm warning. Those warnings are expected to remain in place until at least Tuesday, according to The Weather Channel. Some 2.5. million Texans are without power.
National Guard troops were called upon to respond to a collision Sunday afternoon on Interstate 44 in Oklahoma City when two tractor-trailers and two other vehicles collided on the snow and ice-covered highway. The two tractor-trailers caught fire. Snarled traffic made it difficult for firefighters to get to the scene. Several people were transported to an area hospital for treatment of their injuries.
Gov. Kay Ivey issued a state of emergency declaration for 28 counties in Alabama because of the storm, which is expected to deliver freezing rain and bitter cold temperatures.
Freezing rain caused a massive 133-vehicle pileup on Interstate 35W in Oklahoma in which six people died later last week.
New Jersey issues restrictions on trucks
New Jersey has issued travel restrictions for commercial vehicles because of the winter weather expected to begin early this morning, particularly in central and north Jersey, and continue through the day resulting in difficult driving conditions. The travel restrictions are being coordinated with neighboring states. In addition to the commercial restrictions, all motorists are strongly encouraged to stay off the roads on Monday, according to the New Jersey Department of Transportation.
The commercial vehicle travel restriction will be in place for the entire length of the following highways in both directions:
I-78, from the Pennsylvania border to I-95 (New Jersey Turnpike)
I-80, from the Pennsylvania border to I-95 (New Jersey Turnpike)
I-280, from I-80 to I-95 (New Jersey Turnpike)
I-287, from NJ Route 440 to the New York State border
NJ Route 440, from the Outerbridge Crossing to I-287
The commercial vehicle travel restriction applies to ll tractor-trailers and empty straight CDL-weighted trucks.
Pennsylvania restricts trucks as storm approaches
The Pennsylvania Department of Transportation has issued a ban on some commercial vehicles. Effective at 6 p.m. on Monday, Feb. 15, vehicle restrictions are planned for the following roadways at Tier 1 of the commonwealth's weather event vehicle restriction plan:
Interstate 70 from the West Virginia border to the PA Turnpike
Interstate 76 (PA Turnpike mainline) in both directions from the Breezewood interchange (Exit 161) to the Ohio border
The entire length of Interstate 79
Interstate 80 from Interstate 99 to the Ohio border
The entire length of Interstate 86
The entire length of Interstate 90
The entire length of Interstate 279
The entire length of Interstate 376
The entire length of Interstate 579.
Under Tier 1 restrictions, the following vehicles are not permitted on affected roadways:
Tractors without trailers
Tractors towing unloaded or lightly loaded enclosed trailers, open trailers or tank trailers
Tractors towing unloaded or lightly loaded tandem trailers
Enclosed cargo delivery trucks that meet the definition of a CMV
Passenger vehicles (cars, SUV's, pickup trucks, etc.) towing trailers
Recreational vehicles/motorhomes
School buses, commercial buses and motor coaches not carrying chains or Alternate Traction Devices (ATD's)
Motorcycles
Restrictions will be communicated via variable message boards, the 511PA traveler information website at www.511pa.com and smartphone apps. Motorists can also sign up for alerts on www.511pa.com by clicking on "Personal Alerts" in the left-hand menu.
PennDOT urges motorists to avoid travel during the storm if possible. But if travel is necessary, use caution, reduce speeds and be aware of changing weather conditions.