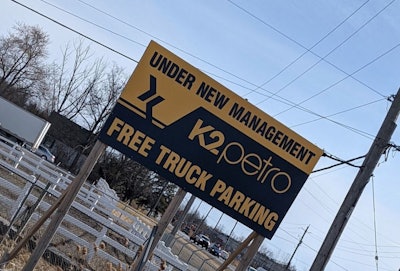 A well-known truck stop on a major highway in Ontario, Canada has new owners who are making numerous changes.
The 10 Acre Truck Stop in Belleville was recently purchased by K2 Petroleum. The major truck stop is located off Highway 401 on exit 538 on Wallbridge Loyalist Road in Belleville, Ontario on the north shore of Lake Ontario.
Located about 116 miles east of Toronto, the 10 Acre Truck Stop is one of the largest such facilities in the country.

"We are pleased to have the opportunity to acquire this landmark site being of strategic importance for truckers traveling through one of Canada's busiest corridors," said Kailash Kasal, president & CEO of K2 Group. "This truck-stop strengthens our position in the commercial fuel market with the recent launch of the K2 Petroleum fuel card and as we continue to explore new opportunities and expand our portfolio."
Amenities at the rebranded K2 Belleville location include:
eight diesel refueling lanes
chrome, tire and truck repair shop
The original 10 Acre Truck Stop opened in 1977.