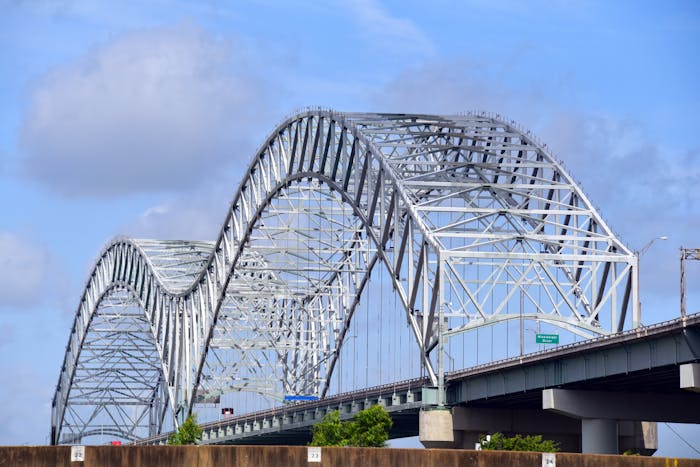 The bridge that carries Interstate 40 over the Mississippi River between Memphis, Tennessee and West Memphis, Arkansas is closed for repairs after a crack in a structural steel beam was found during a routine inspection Tuesday, May 11.
Memphis Mayor Jim Strickland told WREG-TV repairs to the 900-foot-long bridge could take "months rather than weeks", causing traffic to detour to one of the other bridges crossing the river. Both Tennessee and Arkansas departments of transportation are investigating the issue, which is also halting barge traffic on the river below. TDOT will be responsible for making whatever repairs are necessary.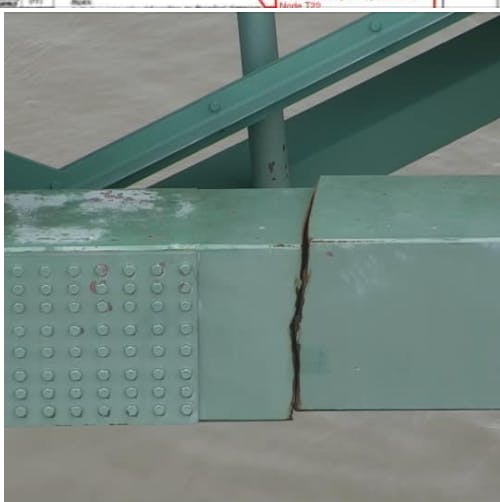 Photo shows the crack in the steel beam on the I-40 bridge over the Mississippi River. (Arkansas DOT photo)
TDOT early this afternoon said, "The inspection (of the bridge) is still underway, and could take a couple weeks to complete. A timeline will be shared as soon as we have one. Continue to use alternate routes."
Arkansas I-40 eastbound traffic should take Exit 5 to Interstate 55 to cross the Mississippi River into Memphis.
Tennessee I-40 westbound traffic should take the I-55 bridge across the Mississippi River to cross into Arkansas and then take Exit 4 to access I-40 westbound.
RELATED: Damaged bridge between Ohio and Kentucky reopens
Federal data from January 2020, the latest available, shows the average daily general traffic on the Hernando de Soto Bridge -- also known as the "M" bridge -- is about 35,000 vehicles and estimates average daily truck traffic at 9,100.  
Opened in 1973, the bridge was later retrofitted to withstand potential earthquake activity along the New Madrid Fault Zone.
This the second time in recent months that a major bridge has been closed, interrupting freight traffic.
Last November, a collision between two trucks and resulting fire caused the closure of the Brent Spence Bridge, which carries Interstates 71 and 75 over the Ohio River between Covington, Kentucky, and Cincinnati. That bridge closed Nov. 11 and reopened Dec. 22.