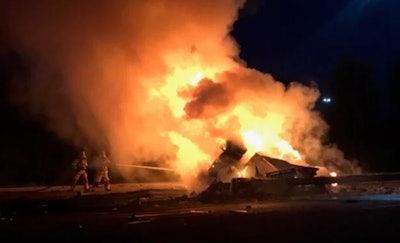 Maine State Police photo
The 65-year-old driver of a truck that crashed and burned in Maine last weekend escaped with non-life-threatening injuries, according to authorities.
Maine State Police say Eric Morris, 65, of Portland fell asleep while driving on the Main Turnpike in Kittery early Sunday morning, May 23. The fiery crash forced police to close the southbound lanes of th turnpike for several hours.
Morris' tractor-trailer loaded with Poland Spring Water went off the highway, striking a guardrail near mile marker 1.5 southbound in Kittery. The truck, then rolled over into the center median guardrail before catching fire.
A state police spokesperson said Morris was able to get out of the burning truck on his own accord and was transported to Portsmouth Regional Hospital in New Hampshire.
The crash was reported at 4:09 a.m. The southbound lanes reopened around 9:30 a.m.