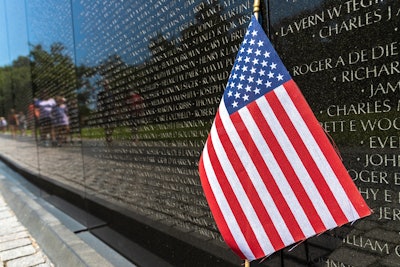 S-F / Shutterstock.com
For most Americans, the upcoming long Memorial Day weekend is a time to relax and begin the summer travel season with a family excursion of some sort.
For many American truckers, its another day on the road, and with it comes two unwelcome prospects:
more travelers on the highway
increased possibility of having their cargo stolen
These are the forecasts of two organizations that monitor such things. AAA suggests Americans are once again hitting the road after the COVID slowdown of last year. Likewise, CargoNet says it expects a "significant threat" to freight transportation during the Memorial Day weekend.
AAA says holiday travel is expected to jump 60% with 37 million Americans traveling during what is considered the start of the annual summer travel season. Most of that will be on U.S. highways as 9 in 10 Memorial Day travelers will drive to their destinations. AAA says travel is expected to increase 52% compared to 2020. Nearly 12 million more Americans will travel by car this holiday than in 2020. However, that number is still 9% less than in 2019.
AAA research partner INRIX predicts drivers will encounter the longest travel delays before the holiday weekend, particularly during the afternoons on Thursday, May 27, and Friday, May 28. Drivers in several major U.S. metros could experience double the travel times compared to a normal trip, while Atlanta, Houston, and New York drivers could see more than three times the delay on the busiest corridors.
CargoNet reviewed data from 2016 to 2020 for the Thursday prior to Memorial Day to the Wednesday after. There were 143 events reported with an average of 29 events per year.
Additionally, activity for the 2020 Memorial Day weekend increased 35% from the same weekend in 2019. The stolen cargo in each event was worth an average of $308,308 – due in part to five thefts that exceeded $1 million in stolen goods.
CargoNet says 20% of recorded thefts occurred on Friday, and a significant number of thefts also occurred on Sunday (16%) and Monday (15%).
Here's how to reduce the risk of theft to your cargo, according to Sensitech, Inc.:
Steps should be taken to verify the authenticity of all shipment-related activity during these periods – particularly any entity which has been engaged to either move or store a shipment. Driver and business verification, prior to releasing any shipment, is paramount.
Communication between drivers and shippers needs to be firmly established and regularly maintained during shipments over these periods. That communication should include driver(s) instruction as to what types of behavior are required and what is not permissible.
Truck stops, highway rest areas and distribution centers are frequent targets for cargo thieves - not only traditionally but more so over holiday periods. For that reason, any location where cargo would either intentionally (or unintentionally) come to rest - even for brief periods of time - should be as secure as possible. Things to consider when selecting a secure area/lot are: controlled access, adequate lighting, congestion, any type of either personal or video surveillance, how long the conveyance will be left unattended, as well as past intelligence of localized cargo theft activity.
If a cargo conveyance must be left unattended for any period of time it should be made as secure as possible. Theft-resistant locking/sealing mechanisms for tractors, trailers and cargo compartments; disabling technology for the vehicle's power units or trailer movements; parking vehicles and/or cargo compartments in a fashion which make access as difficult as possible – are all things worthy of strong consideration.
If any tracking technology, such as GPS monitoring, that is available for deployment should be used to its fullest extent possible. That would include tracking technology on the conveyance's power unit, its cargo area (if separate), as well as within the cargo itself.