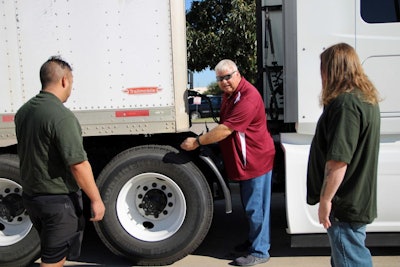 LFCC photo
Lord Fairfax Community College, a multi-campus public institution in northwestern Virginia, has chosen Ancora Corporate Training to manage its commercial driver's license program. LFCC is the first of five community colleges in the Virginia Community College System to launch CDL training with Ancora Corporate Training in the month of July as its training vendor.
VCCS selected Ancora during a competitive bidding process designed to identify the most qualified vendors to provide expert CDL training for its member schools. Citing Ancora's ability to meet its stated requirements, program standards, and expectations, VCCS awarded a contract to Ancora in early 2021.LFCC's first 160-hour CDL class began July 11 and will run every four weeks with a weekend class as well.
"We are thrilled to continue to offer CDL training to our students and the communities we serve," said Bill Pence, the Workforce Solutions Director of Operations and Registration. "Ancora Corporate Training's professionalism and responsiveness have made the implementation process almost seamless. There are more truck driver jobs than there are drivers right now, and having a CDL-A means our students can step immediately into an in-demand field that offers exceptional flexibility and benefits."
Founded in 1970, Lord Fairfax Community College with campuses in Middletown, Warrenton, Luray-Page County and Vint Hill. LFCC offers more than 75 associate degree and certificate programs in a wide variety of disciplines, in addition to providing access to bachelor's, master's and doctoral degree programs offered on-site by a four-year institution. LFCC also serves the business community by offering workforce preparation programs for employees and employers.