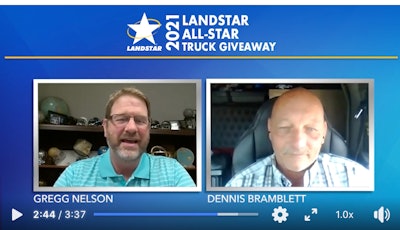 A Missouri trucker is the proud owner of a new truck thanks to an annual drawing held by the company he works for.
Dennis Bramblett of Hannibal, Missouri, won a 2022 Volvo VNL64T truck in the Landstar All-Star Truck Giveaway, July 13.
"Holy moly!" said Bramblett when he realized he'd won the truck. "I appreciate Landstar a lot. Since I leased on, I've not once been tempted to look for another company. And now I have a new truck that's paid for."
During the virtual event, the winner was determined by each of the four finalists selecting a single box among four boxes, one of which indicated the recipient of a new truck. Bramblett was the last to select so he was left with the only remaining box, which turned out to be the winner.
The prize was a garnet red metallic Volvo featuring a 455-horsepower Volvo D13 engine, Volvo 12-speed I-Shift transmission and Volvo Active Driver Assist 2.0 collision-avoidance system.
Bramblett was one of four finalists randomly drawn from a pool of Landstar's more than 1,100 active 1 Million Mile, 2 Million Mile and 3 Million Mile Safe Drivers and Roadstars. The Roadstar designation is one of the company's highest honors based on drivers' high levels of safety, productivity and excellence in customer service.
"Congratulations to Dennis Bramblett," said Landstar president and CEO Jim Gattoni. "Awarding a Landstar a new truck is an honor we look forward to every year. For the second year in a row, we have continued this tradition via Zoom conference call due to the unprecedented circumstances caused by the pandemic. We thank all of our Million Mile Safe Drivers and Roadstars for their skills and their service excellence. It is our privilege to give away such a life-changing award."