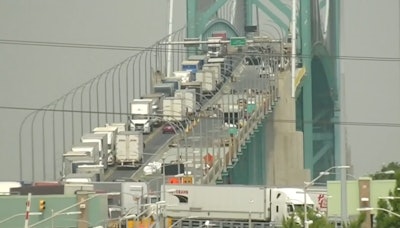 Truckers crossing from the U.S. into Canada were facing long waits as Canadian workers engaged in a so-called "work to rule" strike Thursday night and Friday.
But, things look to improve as a tentative agreement was reached late Friday night, according to the CBC.
The 9,000 members of the Public Service Alliance of Canada and the Customs and Immigration Union seek contracts for government employees who have been working without the official document for three years and to improve what the unions say are "toxic" work conditions.
Workers at border crossings and airports were performing their duties to the letter of the law Friday. That means they were asking truckers and others crossing from the U.S. into Canada every question in the manual making stops last much longer than usual.
A statement from the unions warned, "Travellers should plan for the possibility of additional processing time when crossing the border due in part to this labour action. The Agency thanks travelers and businesses for their patience."
Media reports showed long lines of trucks on bridges between the two countries, and especially on Interstate 94 in Port Huron, Michigan where the Blue Water Bridge is located. This is an active crossing for commercial vehicles.
On Friday, truckers were reporting waits of up to three and a half hours at the Ambassador Bridge, which links Detroit to Windsor, Ontario.