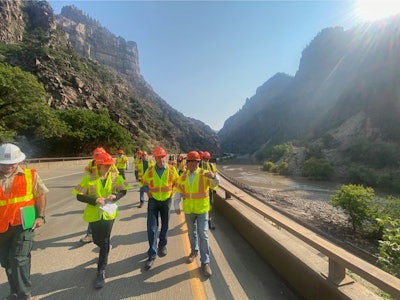 CDOT photo
The Colorado Department of Transportation today said the portion of Interstate 70 through Glenwood Canyon will reopen the afternoon of Saturday, Aug. 14.
CDOT crew have worked around the clock to remove thousands of tons of debris that landed on the critical freight route following heavy rains July 31. CDOT said it expects at least one lane in each direction will be open to traffic Saturday afternoon.
Colorado Gov. Jared Polis and CDOT Executive Director Shoshana Lew visited the I-70 corridor in Glenwood Canyon today to survey the damage caused by mudslides in the surrounding area, as well as view progress made to clean up and reopen the canyon route.
CDOT said, "There is still extensive work to be accomplished over the next four days that includes completing material removal at westbound Mile Point 123.5."
Crews removed 440 truckloads of debris -- each weighing about 13 tons -- from the closed section of the highway Saturday and Sunday, Aug. 6 and 7.
The state has declared this portion of I-70 a disaster area and has requested $116 million from the federal Department of Transportation. The state asked for 10% of that amount to be sent as soon as possible.
Truckers are still cautioned to take I-80 through Wyoming to I-40 through New Mexico to avoid the closed section of I-70.